HFB Recognized by National Campaign Promoting Savings
HOME FEDERAL BANK AMONG 32 BANKS AND CREDIT UNIONS TO RECEIVE AMERICA SAVES DESIGNATION OF SAVINGS EXCELLENCE
---
Home Federal Bank was recognized today with the 2017 America Saves Designation of Savings Excellence for its extraordinary efforts during America Saves Week/Military Saves Week to encourage customers to save money. The award is presented each year to financial institutions that succeed in getting people to open and add to wealth-building accounts.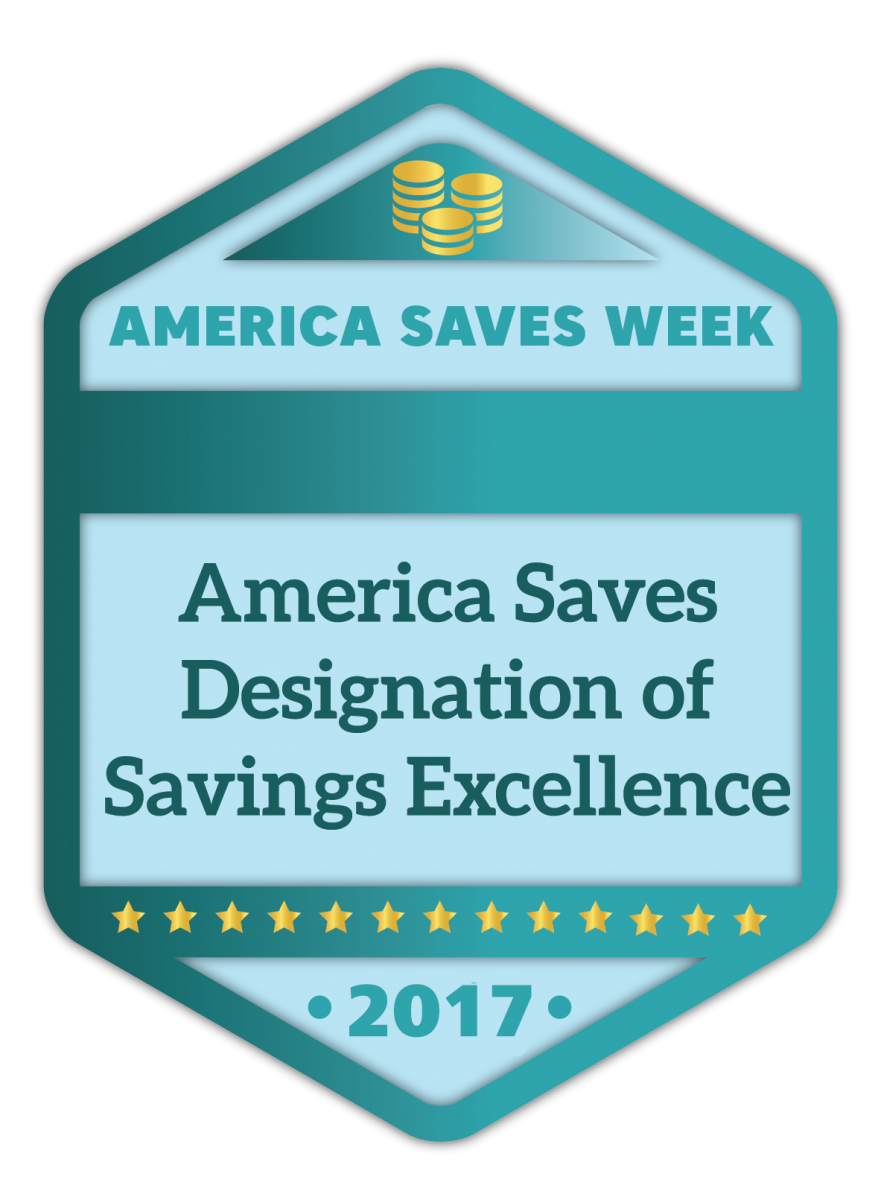 "This was our most competitive year so far, with institutions engaging in creative ways and offering savings incentives," said Allie Vered, America Saves Director. "A lot of people don't believe they can find the money to save. But saving is not an amount, it's an activity. Convincing consumers to pay themselves first, to hang on to dollars instead of spending, and to take a pledge to achieve a goal go a long way towards helping them develop savings habits. We recognize Home Federal Bank for their efforts to educate and inspire."
Just two in five American households report making good or excellent savings progress. America Saves Week is an annual opportunity for people to assess their savings status and make a plan to start or increase saving, and for organizations like banks or credit unions to support good savings behavior. America Saves Week is coordinated each year by America Saves and the American Savings Education Council.
Home Federal Bank was one of 16 banks and 16 credit unions recognized nationally.
2017 America Saves Designation of Savings Excellence Recipients:
Air Force Federal Credit Union
Andrews Federal Credit Union
Armed Forces Bank
BancorpSouth Bank
Dean Bank
District Government Employees Federal Credit Union
Dover Federal Credit Union
Eglin Federal Credit Union
Farmers Savings Bank
First Arkansas Bank & Trust
First Federal Savings and Loan Association of Port Angeles, WA
FNB Community Bank
Fort Hood National Bank
Guadalupe Credit Union
Hanscom Federal Credit Union
Home Federal Bank
Jax Federal Credit Union
Keys Federal Credit Union
LUSO Federal Credit Union
M&T Bank Corporation
Mechanics Bank
MECU of Baltimore
Navy Federal Credit Union
Pacific Marine Credit Union
Peninsula Federal Credit Union
Pioneer Valley Credit Union
Quontic Bank
R.I.A. Federal Credit Union
SmartyPig by Sallie Mae Bank
Southern Bancorp
Torrington Savings Bank
WesBanco Bank, Inc.
Broadway Bank
Freedom Federal Credit Union
FreeStar Financial Credit Union
Frontier Community Credit Union
Heritage Bank & Trust
NSWC Federal Credit Union
Security Service Federal Credit Union
TS Bank
"America Saves is a program that we have been involved with for many years. As a community bank, we want to see our customers reach their full savings potential. That is why this year we partnered with KTBS to get word out on how to pay yourself first," said Jim Barlow, President and CEO of Home Federal Bank. "Start small and watch your savings grow over time. It's easier to save than you think."
For more information about the America Saves Designation of Excellence visit:
Bank Designation: http://americasavesweek.org/america-saves-designation-of-excellence-for-banks-criteria/
Credit Union Designation: http://americasavesweek.org/america-saves-designation-of-excellence-for-credit-unions/
###
About America Saves
America Saves is a campaign managed by the nonprofit Consumer Federation of America that uses the principles of behavioral economics and social marketing to motivate, encourage, and support low- to moderate-income households to save money, reduce debt, and build wealth. America Saves encourages individuals and families to take the America Saves pledge and organizations to promote savings year-round and during America Saves Week. Learn more at americasaves.org and americasavesweek.org.